Where is the Workplace Central located and what needs to be in place to get access.
Workplace Central in Early Access
Early access is not a prototype or concept, it is a fully functional product that has reached a state where it is usable and delivers value. It is being worked on constantly to ensure better quality and being iterated on with feedback from users. It can also be referred to as a beta product where you are able to use the product but there is no support or Uptime SLA. We have supplemental terms for using the product in this stage and it is also pointed out in the interface that the product is in Early Access.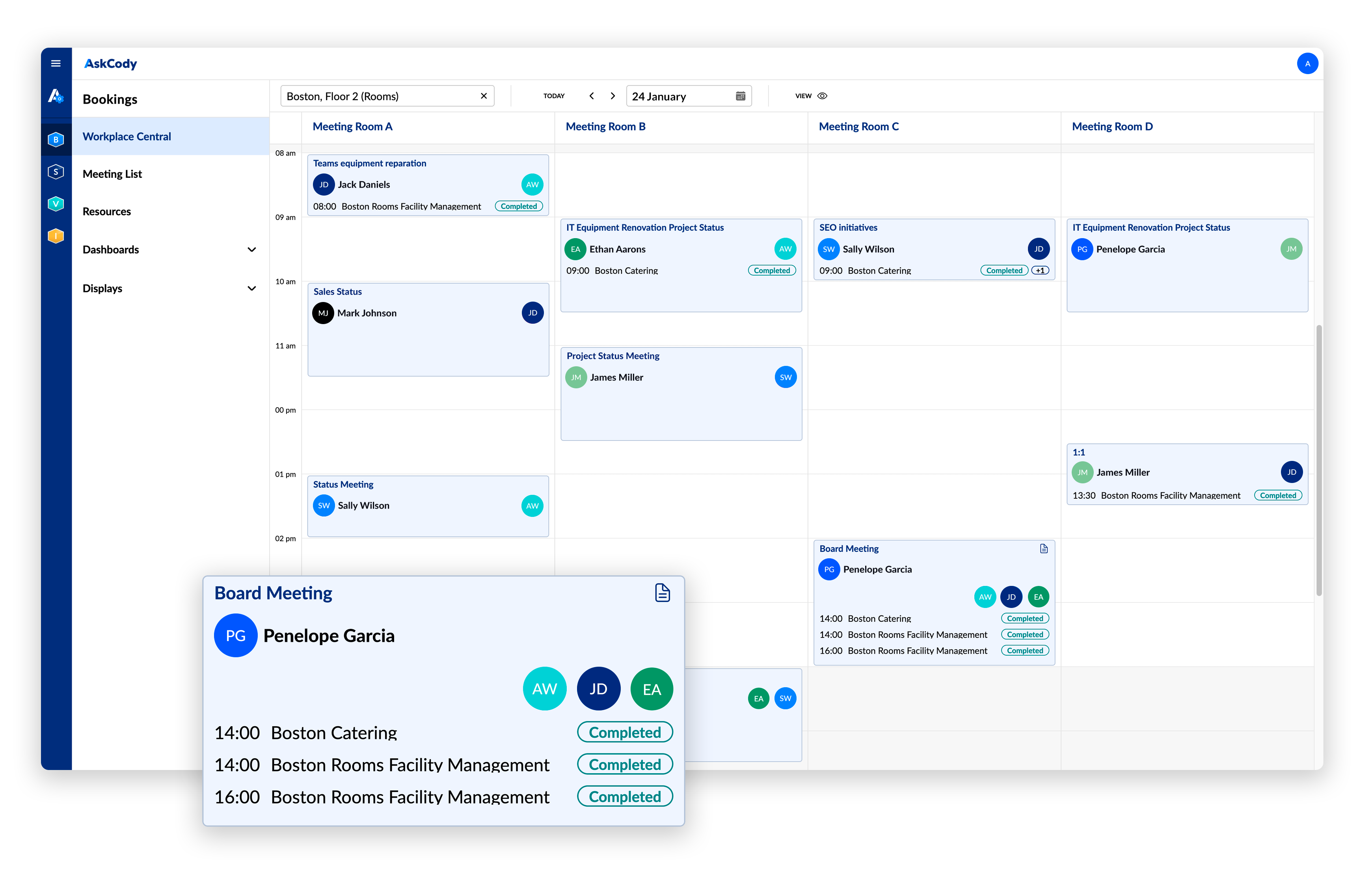 Being a Graph application sets the setup requirement
Workplace Central is built from the ground up as a Microsoft Graph application. The product therefore requires both Rooms and Users to be on Exchange Online and a running Azure Active Directory Integration with AskCody. If this is already setup the only step will be to Grant additional access to the AskCody Enterprise Application (named Goaskcody in the Azure Portal for customer running our US environment and AskCody for EU ) with the following permissions needed for Workplace Central.
App Registrations > Goaskcody
Calendars.Read DelegatedCalendars.Read ApplicationUser.Read.All Application

If these permissions are not already added to the application they will show up when granting permissions to AskCody (the big blue button in the screenshot), here a list of the permissions is shown with more detail and permission description. When permission is granted it usually take a couple of hours before changes take effect and meeting data is shown (up to 12 hours). The screenshot shows all permissions already given including the ones listed above.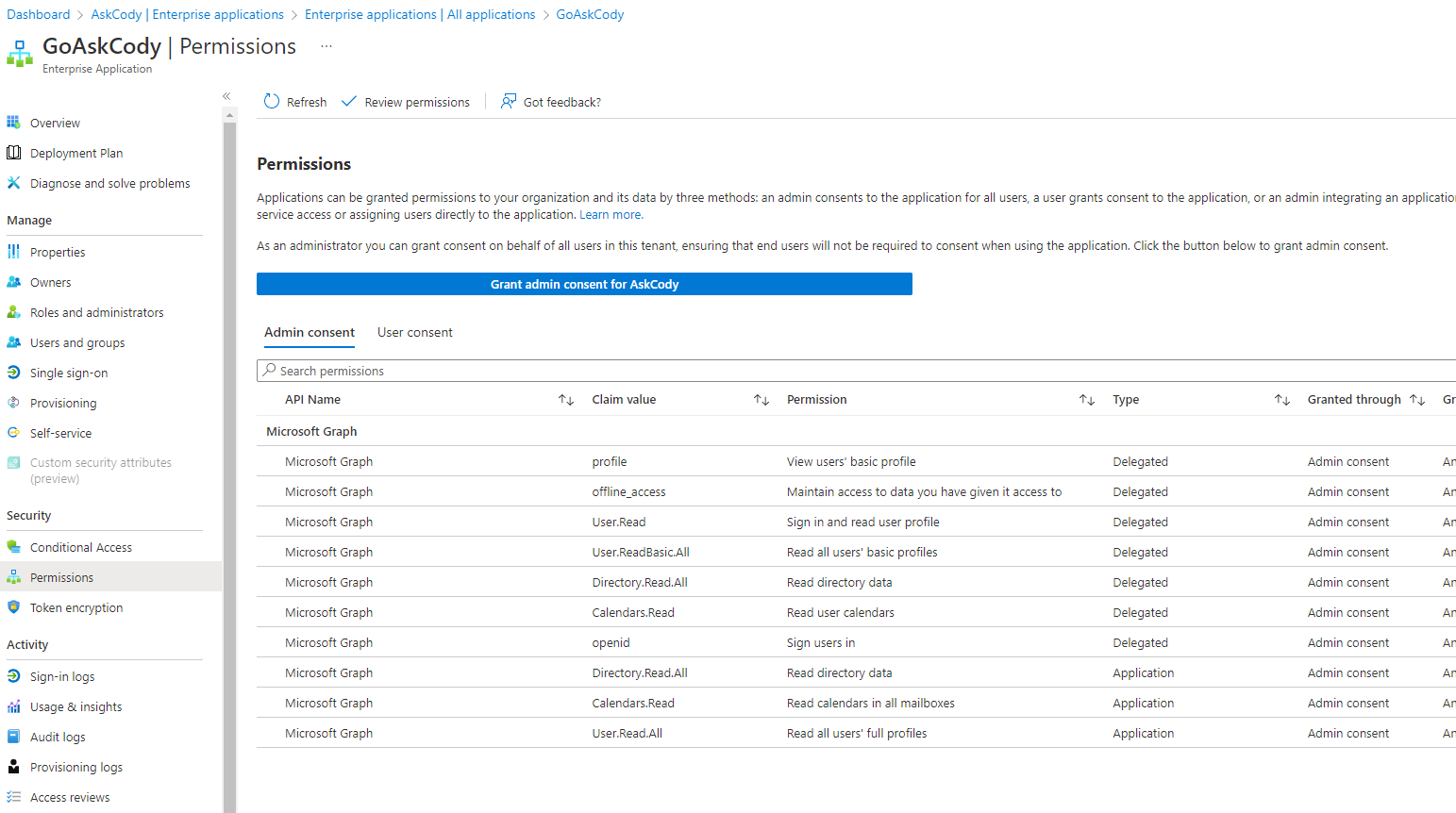 Where do I access Workplace Central?
Depending on your region it is accessed trough the following URL's. To get access you must be a user synchronized with AskCody Active Directory Integration and have the Central Portal User role, login is with SSO only using you Microsoft Credentials.
us.goaskcody.com/workplace-central
eu.onaskcody.com/workplace-central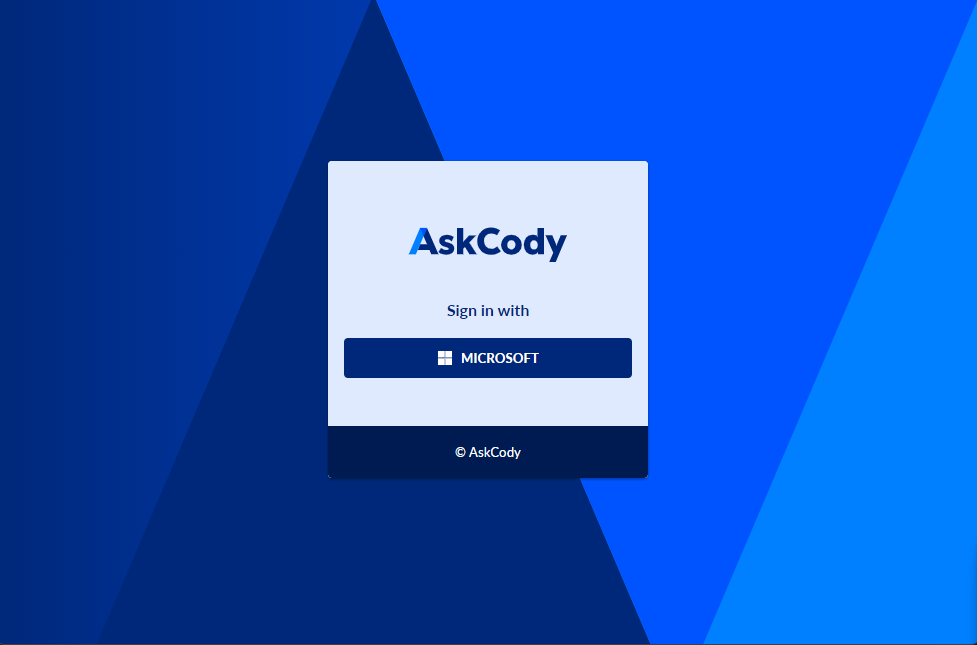 Please note that even though you fulfill the requirements to have access, meeting data might not show in the interface, this could happen if the right permissions to the Enterprise application is not given or if the changes are not yet processed in Azure (sometimes it takes up to 12 hours).
As of right not there is no direct link to Workplace Central from the Management Portal, but this is soon to be implemented. When using Workplace Central early access, the menu structure is similar to the Management Portal and you are able to navigate to other AskCody Services but the link back to Central is not there yet due to it not being General available. A recommendation is there for to use it in a separate tab or create a browser shortcut for easier navigation.
What's Next
This article will be continuously updated to reflect the current state of Workplace Central in early access and we are working towards getting the product to a General Availability state. This means full support and uptime SLA but also adding the following points that are currently being worked on.
In app guidance: Communication in-app with announcements to changes, new features, and tips, also a better first run experience.
Internationalization: Full language and time-format support (it is fixed to English at the moment)
Opening hours: Being able to adjust the location opening hours for the Calendar view
Feedback
We are constantly evaluating feedback and Workplace Central is being developed with user feedback in an iterative process. Feedback can be forwarded to your AskCody contact and we are willing to have a dialog on the matters.