This article explains which steps to go through to set up and enable Insights
Enable Insights on your calendars
AskCody Insights is a part of the Essentials and Advanced pricing plans, which means that all customers with-in those plans already have Insights enabled on all their calendars. If you experience that Insights is not enabled on your calendars, or you have some calendars you don't want Insights to display data from, simply click the check-box as shown in the picture below or follow these steps:
Navigate to the AskCody Admin Center from the left panel.
Click on Integrations.
Choose MS Exchange Calendars from the dropdown menu.
Edit the calendar you wish to enable or disable Insights data collection on.
Enable or disable Insights on the calendar.
If you have more than one calendar repeat the process.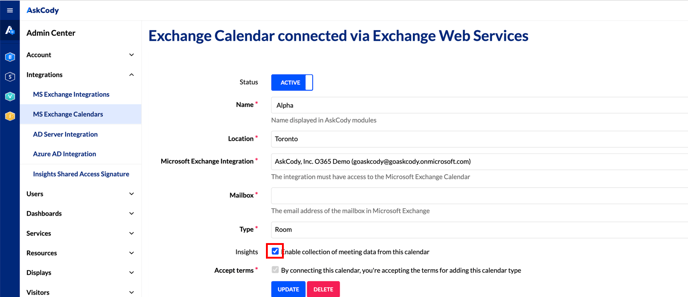 After enabling Insights on your calendars, it will start collecting* data points. This might take a while to generate data in the Insights dashboards depending on how many calendars are enabled with Insights.
Insights only collects data from activated calendars.
Set up Opening hours on your resources
It is important to set Opening hours on all resources* to be sure that Insights visualize as much correct data as possible. E.g. Let's say that a meeting room is fully booked the whole workday, but when you check its performance and usage in the Insights dashboard it shows you that the utilization of the room, that day, is 33%! This might look wrong to you because you would expect it to be 100%. This is why it is important to set office Opening hours for each resource, such that Insights can visualize data properly.
*To use Exchange calendars in AskCody they have to be created as 'resources'. It is in each created resource you set Opening hours.
Navigate to Bookings from the left panel in AskCody Management Portal.
Click on Resources.
Click Edit on the resource you wish to set Opening hours on.
Set Opening hours - Typically the resources (meeting room, equipment, and desks) will have the same Opening hours as the Office opening hours E.g. from 8.00 am - 5.00 pm.
Click Update when done.

When the utilization data starts flowing into Insights, you will be able to see information about how the resources in your workplace are really utilized and optimize them according to the user's needs.
Info
If you run into issues when setting up Insights in your organization, please visit our article for troubleshooting with Insights, to learn about possible solutions for different types of use cases.
To learn how to get the most out of Insights, please see the following eBook: 5 Ways Meeting Room Analytics Optimize your Modern Workplace.