In Exchange Online, in some cases the meeting room calendars display the name of the organizer instead of the meeting subject in resource calendars. Learn how to optimize this behavior.
The subject of events scheduled in meeting room calendars in Exchange and Office 365 will by default show the name of the organizer instead of the actual subject. This can be fixed by running the O365 room resource script below or through a bit of administrative configuration via Windows PowerShell.
Info
You'll need to integrate with AskCody before you can change the titles of your meetings.
This fix will allow AskCody Displays and Dashboards to display the correct subject and description for Office 365 meeting room resources and it applies to other versions of Exchange as well.
Microsoft has a guide which describes how to connect to Exchange Online:
Connect to Exchange Online PowerShell | Microsoft Docs
From here, there are two possible ways to proceed:
Option 1
Download the O365 room resource script by clicking here: office_365_room_update.zip (2 KB)
Unzip the file and run "update_o365_room.bat". When asked to run as administrator, select "Yes". When prompted, enter your Office365 credentials
The script will then run automatically, and your meetings will now use the subject.
Option 2
Administrative configuration via Windows PowerShell
Run the Azure Active Directory Module for Windows PowerShell as administrator and enter the following command:
$Credential = Get-Credential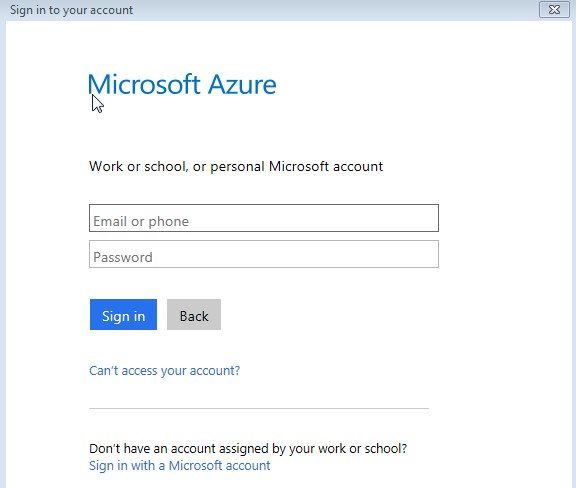 The Microsoft Azure sign-in window will appear asking for your sign-in information. Enter your sign-in credentials.
Run the following command in order to connect to an Office365 session:
$Session = New-PSSession -ConfigurationName Microsoft.Exchange -ConnectionUri https://outlook.office365.com/powershell-liveid/ -Credential $Credential -Authentication Basic -AllowRedirection
Then run:
Import-PSSession $Session
Lastly, run:
Get-Mailbox -RecipientTypeDetails RoomMailbox | Set-CalendarProcessing -AddOrganizerToSubject $false -DeleteSubject $false -DeleteComments $false -RemovePrivateProperty $false
Followed by:
Remove-PSSession $Session
Now AskCody will retrieve the subject and description for every event in a room resource. However, private events and meetings will not show the subject or description, but simply display Occupied as the subject.