This article covers the requirements for using the AskCody App, how to install, and how to set up the AskCody App, both for IT Administrators and as an employee.

IT Administrators
The AskCody App is integrated into Microsoft Exchange and the entire AskCody Platform. The App inherits information set on rooms, equipment, settings, scheduling rules, and policies from AskCody combined with information from Exchange resources. See the diagram below to get the full overview.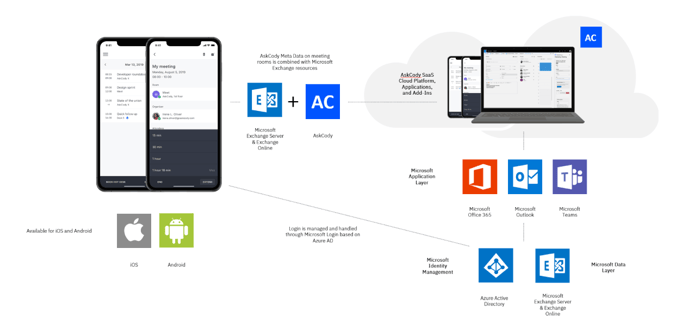 Requirements for using the AskCody Mobile App
All users have to be in Microsoft Azure Active Directory (Azure AD).
An integration between your Azure AD and AskCody has to be established and active. This meaning that users that need access to the mobile app, have to be synchronized users in the AskCody Management Portal.
(We provide two ways of integrating to Azure AD)
Please note that if you currently use AADFS (Active Directory Server Integration) to synchronize your users into AskCody from your Azure AD, you MUST grant consent to Azure AD for you to use the Mobile App.

Follow Step 1 and 2 in this article to grant consent or contact AskCody for more guidance.
Mobile phones need to support either iOS version 14 or newer, or Android version 9 or newer (The Android version of the mobile app is not available yet).
NOTE: If you are currently migrating from an Exchange Server to Exchange Online, and want to use the mobile app while migrating, you will have to make sure the users that need access to the mobile app are migrated to Exchange Online. You can choose which Exchange integration the user should be authenticated with, from within the Management Portal, see this article for further help.
How to install the AskCody Mobile App:
There can be a lot of ways to distribute, deploy, or assign apps to employees, whatever method you choose is up to you. In the following section Employees, we explain the manual install process for an employee without any centralized deployment of the app.
Employees
Follow the steps below to download and install the AskCody Mobile App.
| | | |
| --- | --- | --- |
| 1. Open App Store on an iPhone search for AskCody or click on this link to download the AskCody Mobile App. | 2. Open the AskCody Mobile App when it is finished downloading. | 3. Type in your Microsoft email, the same you use when logging into Outlook. |
| 4. Type in your password for your Microsoft email. | ... Waiting. | 5. Start using the AskCody Mobile App. |

You have now installed the AskCody Mobile app and can get started using it. Learn how to use the Mobile App and watch videos here: How to use the AskCody Mobile App.