This article covers the requirements for using the AskCody App, how to install it, and how to set up the AskCody App, both for IT Administrators and as an employee.
IT Administrators
The AskCody App is integrated into Microsoft Exchange and the entire AskCody Platform. The App inherits information set on rooms, equipment, settings, scheduling rules, and policies from AskCody combined with information from Exchange resources. See the diagram below to get the full overview.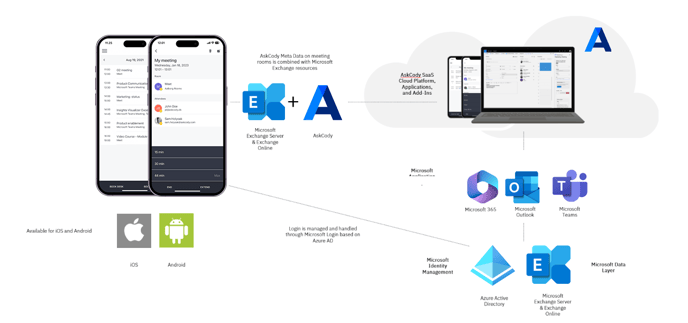 Requirements for using the AskCody Mobile App
The AskCody Mobile App is designed to work with an Azure Active Directory Integration (AADI), as the mobile app authorizes users through Microsoft's Azure AD. Therefore, if you are using an AADI to manage your users with AskCody, you should be eligible to use the mobile app without further configuration. Simply log in to the mobile app using your Microsoft credentials.
Migration and hybrid environments
We don't recommend adopting the mobile app for hybrid setups or while migrating, as it might introduce a lot of work to set up. Also, we cannot guarantee that the mobile app will work as intended or at all during a migration process, which often results in having a hybrid setup. We recommend that you postpone adopting the AskCody Mobile App until you are done migrating and have a single integration with AADI.
Device requirements
For iPhone, the AskCody Mobile App is supported on the latest two major software versions (fx. iOS 14 and 15). For Android, the mobile app is supported in version 9 or newer.
How to install the AskCody Mobile App
There can be a lot of ways to distribute, deploy, or assign apps to employees, whatever method you choose is up to you. In the following section Employees, we explain the manual install process for an employee without any centralized deployment of the app.
Installing the Mobile App (Employees)
Follow the steps below to download and install the AskCody Mobile App.
1. iPhone: Open App Store and search for AskCody or click on this link to download.
Android: Open Google Play and search for AskCody or click on this link to download.

2. Open the AskCody Mobile App when it is finished downloading.



3. Type in your Microsoft email, the same you use when logging into Outlook.



4. Type in your password for your Microsoft email.


... Loading screen.



5. Start using the AskCody Mobile App.

You have now installed the AskCody Mobile app and can get started using it. Learn how to use the Mobile App and watch videos here: How to use the AskCody Mobile App.