Learn how to manage different languages in the AskCody Visitor Management Check-in Kiosks
In the process of setting up a Check-in Kiosk, it is possible to choose the desired languages to be available on the kiosk.
In order to provide a configurable solution that fits the reception needs, the Check-in Kiosk displayed text can be configured in the Admin Center --> Visitors --> Check-in Properties.
As of right now, the messages with a default translation are English, Danish, Swedish, and Norwegian (Bokmål). The languages French, German, Spanish, Finnish, Dutch are by default set to English on all messages.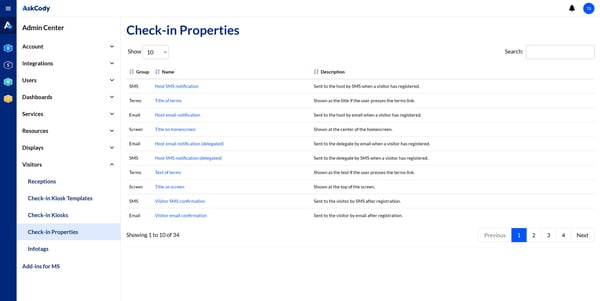 How can I set up the Check-in Kiosk to display French, German, Spanish, and Finnish?
When you have added a language to the reception (Spanish, for example), the message for the Spanish language will appear under Check-in Properties for that reception, making the Spanish language available for the Check-in Kiosk attached to that reception. However, the messages displayed on the screen will still appear in English, and therefore need to be translated manually in the Admin Center. This can be done by editing the Check-in Properties in the Screen group under the Check-in Properties tab in the Admin Center.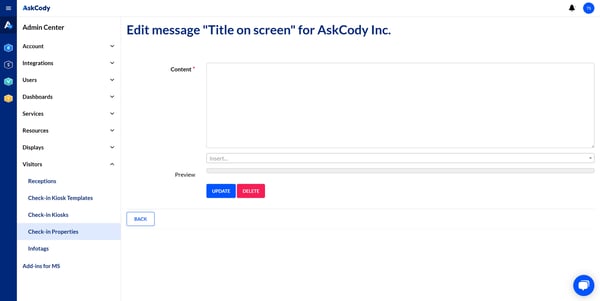 To know more about how AskCody handles languages across the platform, please click on the following link: Language Management in AskCody