Learn how to troubleshoot when the AskCody VSTO add-ins for Outlook are not visible in the Outlook ribbon
If you are using Outlook 2010 or if you need to use the Services or Visitors add-in on behalf of others, you need to use our VSTO add-ins for Outlook, which are add-ins that are locally installed.
To learn more about VSTO add-ins, click here.
However, when the VSTO add-in has been installed it will only appear in the Outlook ribbon when it can be used. This means that if you create an appointment in Outlook, it is only the Bookings add-in that will be visible, as the Services and Visitors add-ins cannot be used with appointments since appointments do not have a meeting room as a location.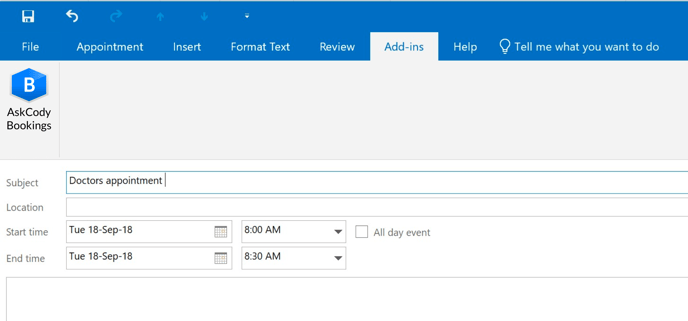 If you invite either other people or add a meeting room the appointment automatically turns into a meeting, but the Services and Visitors add-ins will not appear until the meeting invitation has been sent and you reopen the meeting.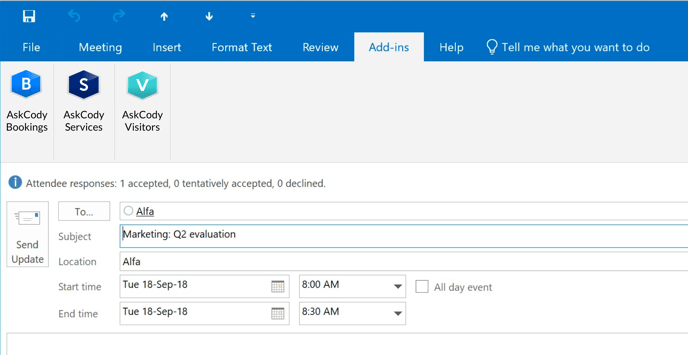 Why does it work this way?
It is a function in Outlook that all VSTO add-ins that cannot be used with appointments or unsent meeting invites are hidden from view in the Add-ins tab of the ribbon. In the case of the Services and Visitors VSTO add-ins, it is because they are meant to be used after a meeting room has accepted the meeting invitation.
32-bit and 64-bit versions
If the add-ins still not appear in the ribbon it is important to notice that the VSTO add-in must be the same bit version as the Outlook client installed (32bit or 64bit). If this is not matching the add-in will not show at all.
The standard version that is recommended by Microsoft is the 32-bit version, but AskCody VSTO add-ins also support the 64-bit version. Learn more about the differences and recommendations here.