32-bit apps are no longer supported in the latest versions of iPadOS. Learn how to upgrade your AskCody Signage app to the latest 64-bit version
Since the current iOS version does not support 32-bit apps, the old "AskCody" 32-bit app will be removed from App Store by Apple and no longer be able to launch if you update your iPad's iOS.
Because of this, we have created a new 64-bit app called "AskCody Signage", which is now available in the App Store. Please follow these steps to set up the new app:
Info
Please be sure you have access to your company's Displays License Keys in the AskCody Portal. You will need the License Keys to set up Displays in the new app.
Step 1: Exit and close the old app
Info
If your iPad is set up with Guided Access, you need to unlock it by pressing the Home button thrice and typing the password, before you can close the app
To close the app, press the Home button twice and swipe up on the AskCody app window.
Alternatively, if you do not have access to the Home button, you can close the app by swiping up with 4 fingers and then swipe up on the AskCody app window.
Step 2: Download the new "AskCody Signage" app
Go to the AppStore and search for "AskCody Signage". You might need an Apple ID to download the app and this can be any Apple ID you might have access to (even private ID's). However, regardless of what Apple ID is used, it is especially important that you sign out of it in the iPad settings after downloading the AskCody Signage app. This will prevent future pop-ups prompting to re-enter the Apple ID password.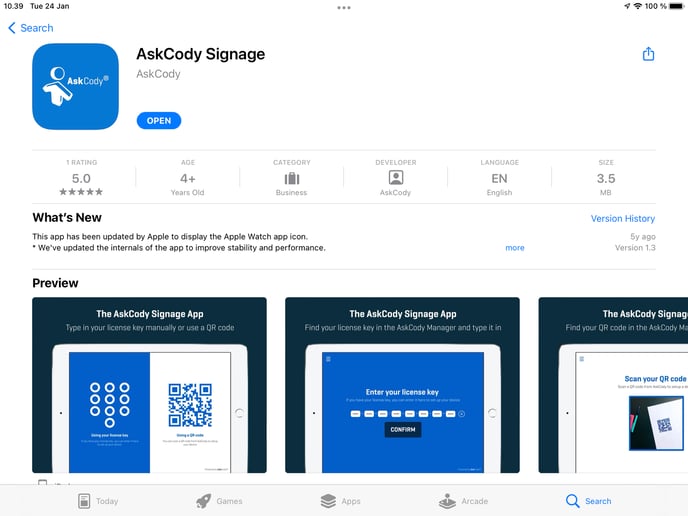 Step 3: Set up the AskCody Signage app and launch the Display
Launch the AskCody Signage app and press "Using your license key". This will take you to the setup page where you can type the license key of the Display and press "Confirm" to launch your Display.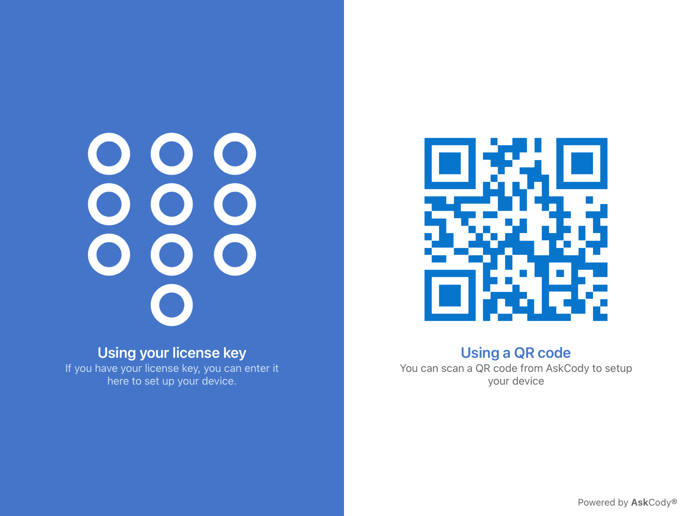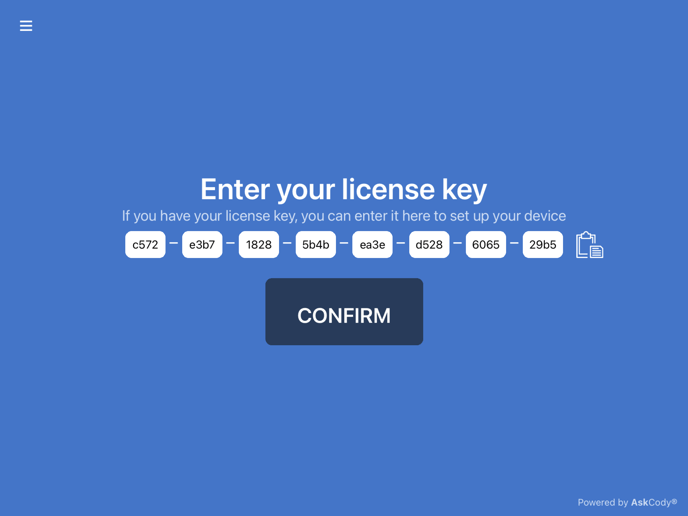 Common error
If you receive an error saying "Invalid license" please check again and make sure that the license is the exact same as displayed in the Displays in the AskCody Portal. If you still the error message please check if the iPad is connected to a Wi-Fi network.