Learn about the difference in these two Outlook calendar permissions
In organizations where individuals such as Executive Assistants are booking meetings on behalf of someone else, they often are also booking the room and associated services.
This is something AskCody can support in two different ways, to align with your organizational needs:
Delegate Access
If your current organization currently uses Delegate Access in Exchange and Outlook, AskCody can fully support this use in our solutions.
The benefit of using delegate access is having the ability to scale this on a large enterprise level and use the settings most organizations already have in place to support the extended functionality to booking meetings that AskCody's platform offers.
Here are the different levels of access you can set through delegation access:
Reviewer
With this permission, the delegate can read items in the manager's folder.
Author
With this permission, the delegate can read and create items, and change and delete items that he or she creates. For example, a delegate can create task requests and meeting requests directly in the manager's Task or Calendar folder and then send the item on the manager's behalf.
Editor
With this permission, the delegate can do everything that an Author has permission to do and additionally can change and delete the items that the manager created.
Here are the different settings that can be changed for delegate access: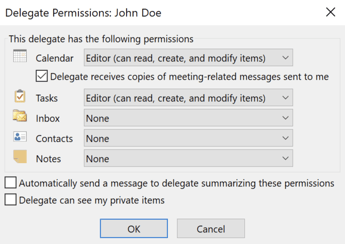 PLEASE NOTE: When delegated access is given to an individual, that individual can also send emails on behalf of that individual even when Inbox permissions are not given. This means they can send emails that will say "John" is sending on behalf of "Cody."
Here is the Microsoft support article regarding Delegate Access
Share Calendar
When you share your calendar, you can give more users access to your calendar, without giving full delegate access. Sharing your calendar also means that an individual will not be able to send emails on your behalf, but rather just calendar invites.
Below you will see the permissions that can be given for shared calendar access: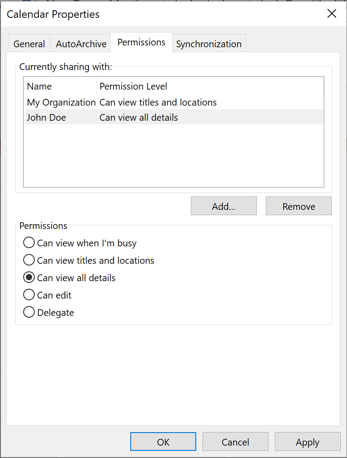 To make sure all AskCody add-ins work correctly when allowing someone else to manage your Calendar, please make sure to choose "Delegate" access within the Permissions.